Roll over image to zoom in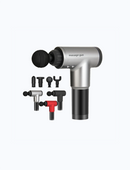 Description
2021 New Electric Massage Gun, Percussion Massager Massage Gun for Athletes Pain Relief, Deep Tissue Percussion Muscle Massager with 4 Massage Heads, Hand Held  6 Speeds Professional Massage Gun

1.2021 Newest Design
Upgraded with 4 replaceable massage heads, intelligent one-button control 6 level adjustable speeds for giving your muscles a deep massage. Strong and powerful high-frequency vibrations of our 2021 Newest Massage Gun give your body and muscles a complete relaxation.
2.Deep Body Massage
This Massage Gun could enhance athletic performance and improve the overall health of the body's soft tissues. With a powerful motor that delivers deep high-penetration vibration, the massager sends message waves of relaxation and relief throughout your body. Increase your strength, endurance via various massage therapy when incorporated into pre-workout warm-ups and post-workout recovery routines.
3.Muscle Pain Relief and Quick Recovery
Use the Cordless Percussion massage gun after long-time work and physical activity to accelerate body recovery. This Muscle Massage Gun could keep the body from costly injuries and shortens recovery time. Massage on the chest, arms, shoulders, neck, back, legs, calves, etc. Release trigger points, increase blood flow and aid myofascial release of cramping, aching, sore joints. Dramatically improve everyday mobility, flexibility.
4.Suitable for All Occasions
Round Head / Flat Head / Fork Head / Bullet Head. The Massage Gun is designed for family, gym and more, apply to weight lifting, lunges, workout, riding, golf, running or fitness-related activities athletes.
5.100% Satisfaction Warranty
This super massage gun with instruction pamphlet, accessories are all included in a sophisticated box; great gift ideas for fitness enthusiasts, hard-working office workers, family, physiotherapists, etc. We URHOMEPRO just provides 100% satisfaction warranty service to our customer. Please free to contact us if you have any questions.
Why Choose URHOMEPRO Super Massage Gun?
- The URHOMEPRO Handheld Percussion Massage Gun has a unique ergonomic design providing lasting comfort when gripping the handle.
- The Deep Tissue Massager uses the powerful motor with high-penetration vibration performance with 4 heads. Just need 3 steps: Replace, start and massage.
- This Cordless Massage Gun is easy to use for a variety of people such as family, gym and anywhere. Designed for physical therapy, muscle recovery, etc.
Features:
- 6-Level Variable Frequency Vibration
- 4 Applicators for Full-body Muscle Massage
- Safe Energy-Saving Lithium Battery
- One Button Control 6-Level Speeds
- Cordless and Rechargeable Massage Gun

- Alleviate Muscle Stiffness and Soreness
- Enhance Blood Circulation
- Improve Health of Soft Tissues
- Increase Exercise Range
Specifications:
- Name: Muscle Fascia Massager
- Color: Silver

- Rated voltage: DC8.4V
- Rated power: 24V
- Battery parameters: 2000mA
- Mode of operation: Button
- Gear position: 1 to 6
- Battery life: about 3 Hours
- Size: about 23*22.2*6.5cm/9.06*8.74*2.56in
Package Includes:
- 1 * Muscle Massager
- 4 * Replaceable Massage Head
- 1 * Charger
- 1 * Instruction Manual
6 Speed Adjustable - Choose the best suitable speed you need, URHOMEPRO Percussion Massage Gun supports 2100rpm-3600rpm. Whether it's a muscle relaxation after exercise or a daily body massage, you can easily find the vibration amplitude thatsuits you best. And after fully charged the 2000mAh lithium battery supports you a 2-3 hour after a full charge.

One Button Control - One button control: ON/OFF, 6 different speeds. That means there is 6 speeds choice for you, giving your muscles a deep massage. The Massage Gun is ideal for muscle recovery after exercise.No fancy outlook, simple LED indicatinglights. One red light is on means Level 1; Two indicates Level 2, and so on. (Note: If you'd like to pause it, you have to go to the highest speed, then it can stop. For more, please refer to our User's Manual.)

4 Applicators for Full-body Massage - The URHOMEPRO Massage Gun with 4 applicators work for full-body muscle massage. Ball Shape for bulk muscle groups, like waist, back, buttocks, thighs, calves; Point Shape for deep tissue massage, precise massage;Flat Shape for muscle relaxation, muscle plasticity; Folk Shape for massaging the neck, and spine; Bullet Head: Mainly used for joints, deep tissue, and trigger points.

Great Heat Dissipation - The Massager has a great heat dissipation function which can protect the machine from damage. Therefore, it's normal to use it for a long time with a slight heat, but it won't hurt your skin. Please do not worry.

Cordless and Rechargeable - The cordless and rechargeable design of our Massage Gun is convenient for you to carry out. What's more, the Massage Gun is also effective at increasing your range of motion and engaging and relaxing the muscle. Itincreases blood flow and releases fascia and knots. It's ideal for athletes, people who work out or people with injuries to help them recover quicker.

Long Life Battery - 24V brushless DC motor and double bearing transmission brings a higher power and lower noise experience, Hand Held Deep Tissue Muscle Massager makes on-the-go chiropractic massage therapy a breeze. 6 vibration frequency andup to 2-3 hours power meet continuously all the needs of muscle relaxation.

Ultra-Portable and Easy to Use - Ergonomic lightweight design! Portable massage tool! The 4 massage heads of this Massage Gun are specially designed to precisely target and relax different body parts. Premium handle with anti-slip mat helps youto hit the body spots which are hard to touch and allows for self-massage.
Specifications
| | |
| --- | --- |
| Features | One Button Control, Cordless and Rechargeable, With 4 Massage Heads, Long Life Battery, 2021 Upgrade Technology, Great Heat Dissipation, 6 Speed Adjustable |
| Brand | Urhomepro |
| Assembled Product Weight | 2.10 lb |
| Manufacturer Part Number | Massage Gun-Q8483 |
| Assembled Product Dimensions (L x W x H) | 9.06 x 8.74 x 2.56 Inches |