Roll over image to zoom in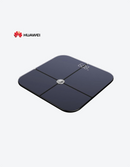 Description
Features:
Know your body fat rate whenever you want. Taking the body fat rate as an aggregative indicator to do a more specific exercise.
11 Body Data Detection:
adopts BIA, bioelectrical impedance analysis, for more scientific and overall body detection of BMI, weight, body fat rate, moisture content, basal metabolic rate, protein content, muscle mass, bone mineral content, visceral fat level, physical age and overall body score.
Accurate Measurement:
with the technical guidance and improved method given by the joint laboratory of HUAWEI and the scientific research institute of General Administration of Sport of China, uses big data, mathematical modeling and PCA algorithm for accurate measurement.
Premium Quality:
equipped with a high-precision BIA chip, ITO conducting film, four high-accuracy pressure sensor and 360° flexiable pads. 
Offline Data Review:
automatically recognizes the body fat rate and weight of bound users and shows on the scale instantly without checking on yout phone. The offline data will be synchronized when connected.
User-friendly APP:
record weight, fat rate, and other trend changes, and provide the body radar map, easily view the exercise results, support 10 people to use.
Specifications:
Brand: HUAWEI
Color: Black
Chip: CHIPSEA CST34M97
Compatibility: with Android / iOS 
BT: BT 4.0 and above
Material: ABS+Tempered Glass
Operating Principle: BIA (bioelectrical impedance analysis)
Frequency: 50KHz
Working Temperature: 5℃ ~ 40℃
Battery: AAA 1.5V*4 (DC 6V)
Item Size: 30*30*2.37cm / 11.81*11.81*0.93in
Package Size: 34.9*33.5*4.5cm / 13.74*13.26*1.73in
Item Weight: 1850g / 65.25oz
Package Weight: 2542g / 89.66oz
Package List:
1 * Smart Scale
4 * Alkaline Battery(AAA 1.5V)
1 * User Manual