Roll over image to zoom in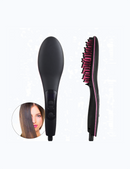 Description
Features:
1:ADVANTAGES: The digital hair straightener replacing traditional flat iron straightener. A combination of hair straightener and comb. It helps solve your hairstyle problem and support head massage without any harm.
2 SAFETY: It is designed with precise temperature control to guarantee anti scald and warm contact massage. Built-in automatic constant temperature and fast heating technologies.
 3 FUNCTIONS: The hair straightener is anti-static, anti-scald and anti-hair broken,Easily solve hair knotting, reduce pain and hair broken, repair the hair quality of harm. Head massage make hair follicle of scalp more healthful and bright and elasticity with hair.
4 TEMPERATURE: Max 450℉, auto keep constant temperature at 365℉ for all types of hair, customized set 410℉ for natural texture hair, 450℉ for thick or wavy hair, effortless and efficient straightening styling.
5 FEATURES: Hair massager + ceramic iron straightener + detangling comb + fashion appearance,The perfect combination of the four together,Portable and powerful, Just modeling yourself at home or travel.
6 Can fast professional hair straightening and styling for you,allows you get ready quickly for going out in rush morning hours, beauty every day.
7 It emits rich negative ions while working, combining with air to produce water to moisturizing and hydrating care your hair, helps straighten hair instantly while leaving behind a healthy shine.
8 All the world ladies will be crazy for it, Give yourself or family, friends,The best present ,You deserve to have it

》Temperature setting guide: 
1.For thicker and curls hair,
  210-230 degrees Celsius are generally selected
2.For common hair,
  190-210 degrees Celsius are generally selected
3.For thin and soft hair,
   170-200 degrees Celsius are generally selected